As part of its efforts to help address poverty among cocoa growing communities, farmers and households in the country, Cocoa Abrabopa Association (CAA), a farmer organisation in partnership with Alfred Ritter GmbH & Co KG, Fuchs & Hoffmann and Ascot Amsterdam, has supported its farmer groups in Western South Cocoa region with additional livelihood intervention initiatives.
The objective of the support was to enable the cocoa farmers to have additional income stream aside from the cocoa farming.
The beneficiary farmers groups were drawn from Akotom in the Bogoso Cocoa District, Pieso in the Prestea Cocoa District, Adum Banso in the Tarkwa Cocoa District and Nkurakan in the Ayinese Cocoa District all in the Western South Region of Ghana.
The alternative livelihood initiatives were targeted at 526 members and their households and would help to boost their domestic income from cocoa and other agricultural products through living income interventions, shade trees planting, farmer land registration, supportive child labour monitoring and remediation system (CLMRS) and the farmer business school (FBS) initiatives, which were all, part of the interventions.
Handing over
Speaking at a ceremony to hand over the items to the beneficiary communities, Council Chairman, CAA, Ismaila Pomasi said many factors accounted for poverty particularly among cocoa farmers in the country.
Chiefs among them, according to him, included location, infrastructure, educational levels, availability of jobs, farm sizes and capital for investment.
"The solutions for increasing the living income are different for each household and the communities they live in, that is why we at Cocoa Abrabopa Association (CAA) are putting our all in this living income and additional livelihood intervention project as a key module of cocoa sustainability in Ghana.
"Different members have different needs and see different opportunities to turn the tide.  Therefore, cocoa farmers in Akotom in the Bogoso Cocoa District said they needed support to put up an Agro chemical shop in their community as a way of easy accessibility to purchase a product at a very affordable price, so we are doing exactly that for them.
"Cocoa farmers in Pieso in the Prestea and Adum Banso in the Tarkwa Cocoa District required Tricycle for the transportation of their beans from the farm to their homes at a very minimal cost and stress free.
"While cocoa farmers in the Nkurakan in the Ayinese Cocoa District desired knowledge in snail rearing, which we have done for them as well.
"CAA is helping contribute to sustainable cocoa production in Ghana and also supporting our farmers and their households in building economically viable and resilient cocoa production which will lead to sustainable improved livelihoods" he said.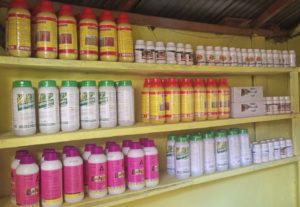 The first groups of beneficiary communities were given tricycles popularly known as aboboya, an agro chemical shop and snail starter pack which included snails, boxes and feed as start up for the additional livelihood intervention.
The Sustainability Manager for CAA, Wilfred Apiung, said through the introduction of the module in cocoa growing communities, CAA and its partners, were getting to the core of what mattered most to the cocoa farmer.
"Farmers issues are on my heart, and I believe that sustainable agriculture, and a targeted set of alternative livelihood innovations, like the additional livelihood initiative will help farmers produce better cocoa, adapt to climate change, increase their productivity and set goals to achieve our cocoa sustainability agenda," he said.
Appreciation
The leaders of the farmer groups said that the living income initiative project being championed by CAA, would help reduce poverty in their communities.
They were grateful to CAA for introducing and teaching them to alternative livelihoods as cocoa farmers as alternative source of income and being an advocate for their human rights and helping them mitigate and adapt to the climate crisis.
Present at the handing over ceremony were Selorm Wordi (Western Regional Manager, CAA), Jonathan Haefiade, Philips Apalogta (Sustainability Coordinator), Joseph Adu Bosi (Child Development Officer) and some cocoa farmers from the various communities took part in the ceremony.