The Cocoa Abrabopa Association as part of its Annual Activities organized the 2021 Annual Training for all its Technical Staff.
The Association believes that extension services in agriculture means to transfer technology, support rural adult learning, assist farmers in problem-solving and getting farmers actively involved in the agricultural knowledge and information system.
The week long training was organized by Cocoa Abrabopa Association (CAA) in collaboration with the Quality Control Company, Ghana Cocoa Board at the Bunso Cocoa College in the Eastern Region of Ghana.
The Association refined the Coordinators with both Practical and Theory sessions. They were taken through a number of courses including Cocoa Botany, Nursery, Maintenance, Post-harvest techniques, International quality cocoa standards, New Rainforest Alliance certification standards and Shipments.
The facilitators were Mr. Francis Codjoe, Principal Technical Officer (Bunso Cocoa College of CHED COCOBOD), Mr. Kwadwo Owusu Ansah, Senior Quality Control Officer (Quality Control Company COCOBOD), Mr. Mamud Abdul-Rahman, Certification Manager (CAA), Mr. Ebenezer Kwarkye, Child Development Coordinator (CAA) and Mr. Andrew Roland Obosu, Operations Manager (CAA).
In attendance were also the Chief Finance & Operations Manager of CAA, Mr. Patrick van Brakel, and the Council Chairman of CAA, Mr. Ismail Pomasi and three of his Council Members joined the Quality Control Session of the Training.
The training is meant for the Technical Coordinators and Regional Managers who work in the field directly with Cocoa Abrabopa Association members. The training is carried out yearly to ensure that all field Officers are abreast with all technical details concerni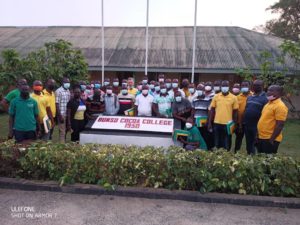 ng extension and farm management.
The training focused on certification, climate smart cocoa production, supply chain expectations and international quality standards of cocoa production & handling.
The 2021 Annual Training for all Technical Staff, In photo Facilitators, Council Members of CAA, Coordinators & official from Quality Control Company COCOBOD